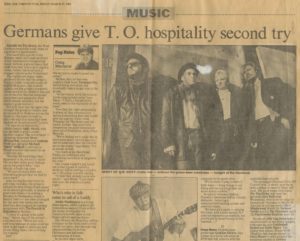 Germans give T.O. hospitality second try
Rumble On The Beach, the West German rockabilly band, must be a glutton for punishment.
The hard-luck quartet from Bremen made its Canadian debut a tlast September's Independent musk festival, a grand fiasco that went from bad to worse to slightly better, before the band beat a bruised retreat to the Fatherland. The nightmare began when skinheads broke into the group's Toronto hotel room and made off with $750 in cash, two leather jackets and the group's passports. (After word of the incident was put out on the Doc Marten telegraph, the Jackets and passports were 'Miraculously returned, but the Money's gone forever.) ;lot only that, but the agent who brought the group to Canada had promised 15 to 20 shows across the country.

The band arrived to discover only five dates had been booked, all in and around Toronto. "It was not so wonderful," relates bassist Andy Merck, who has decided to give Canada another chance. The entire band — inpluding drummer Marc klittelacher, saxophonist Andreas Proff and guitarist Michael "ally" Ohlhoff — arrived in Toronto earlier this week for an indefinite stay. "Besides the bad things that happened to us, we had so much fkn and had really good feelings about the people here," says Merck, a forgiving chap. "We met so many kind and interesting people that we had to come back.' . And, having learned from its previous mistakes, the group is already finding things much easier on Its second go-round. A cluster of good club dates — including a Monday-to-Wednesday stand at Sneaky Dee's — has been arranged for the next few weeks and the band has also snagged an opening assignment with The Pursuit Of Happiness in Buffalo. "I think it's going to be quite long," Merck says of the group's extended visit "We're not sure how long because at some point we have to get back to Germany and do our thing there, but we'll stay for months." Gut!