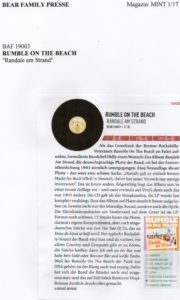 Rumble On The Beach-Randale am Strand – Bear Family
BEAR FAMILY PRESSE Magazin: MINT 1/17
BAF 19003 RUMBLE ON THE BEACH "Randale am Strand"
ROCK
Als das Comeback der Bremer Rockabilly-Veteranen Rumble On The Beach an Fahrt aufnahm, formulierte Bandchef Ohlly einen Wunsch; Das Album Randale Am Strand, die deutschsprachige Platte der Band, sei bei der Erstver-öffentlichung 1993 ziemlich untergegangen.
Eine Neuauflage dieser Platte –
das wäre eine schöne Sache. "Damals gab es einfach keinen Markt für Rock'n'Roll in Deutsch, daher hat unser Versuch nur wenige interessiert!
Das ist heute anders, folgerichtig liegt das Album nun in einer neuen Auflage vor – und zwar erstmals auf Vinyl, denn auch das war 1993 anders: Die CD galt als das Nonplusultra, die LP wurde fast komplett verdrängt. Dass das Album auf Platte deutlich besser aufgeho-ben ist, beweist nicht nur der lebendige Sound, sondern auch die Optik: Die Kleinkinderpolonäse am Sandstrand auf dem Cover ist im LP-Format noch schöner. 17 Stücke bietet die Platte, darunter eigene Kompositionen, aber auch eingedeutschte Stücke wie Just The Two 01 Us, das zu Denn du küsst so heiß wird.
Der typische Rockabilly-Sound der Band wird hier und da variiert, vor allem Country und Cowpunk gibt es zu hören, die Stücke heißen dann Ich steh an der Bar und habe kein Geld oder Brauner Bär und weiße Taube. Weil bei Rumble On The Beach der Punk zur DNA gehört, ist der Klang auch mal ruppig.
Dafür hat sich die Band die 13änder noch mal vorgenommen und das auf 500 Stück limitierte Vinyl-Reissue deutlich druckvoller gemacht.
ANDRE BOSSE
Summary
Reviewer
Review Date
Reviewed Item
Presse - Randale AM Strand von Rumble On The Beach - Mint Magazin
Author Rating