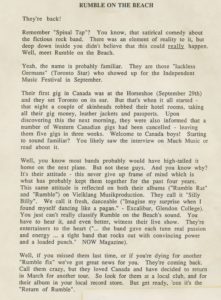 RUMBLE ON THE BEACH
They're back!
Remember "Spinal Tap"? You know, that satirical comedy about the fictious rock band. There was an element of reality to it, but deep down inside you didn't believe that this could really happen. Well, meet Rumble on the Beach.
Yeah, the name is probably familiar. They are those "luckless Germans" (Toronto Star) who showed up for the Independent Music Festival in September.
Their first gig in Canada was at the Horseshoe (September 29th) and they set Toronto on its ear. But that's when it all started -that night a couple of skinheads robbed their hotel rooms, taking all their gig money, leather jackets and passports. Upon discovering this the next morning, they were also informed that a number of Western Canadian gigs had been cancelled – leaving them five gigs in three weeks. Welcome to Canada boys! Starting to sound familiar? You likely saw the interview on Much Music or read about it.
Well, you know most bands probably would have high-tailed it home on the next plane. But not these guys. And you know why? It's their attitude – this never give up frame of mind which is what has probably kept them together for the past four years. This same attitude is reflected on both their albums ("Rumble Rat" and "Rumble") on Vielklang Musikproduction. They call it "Silly Billy". We call it fresh, danceable ("Imagine my surprise when I found myself dancing like a pagan." – Excalibur, Glendon College). You just can't really classify Rumble on the Beach's sound. You have to hear it, and even better, witness their live show. They're entertainers to the heart ("… the band gave each tune real passion and energy … a tight band that rocks out with convincing power and a loaded punch." NOW Magazine).
Well, if you missed them last time, or if you're dying for another "Rumble fix" we've got great news for you. They're coming back. Call them crazy, but they loved Canada and have decided to return in March for another tour. So look for them at a local club, and for their album in your local record store. But get ready, 'coz it's the "Return of Rumble".