Randale am Strand
Rumble On The Beach sind wieder voll da!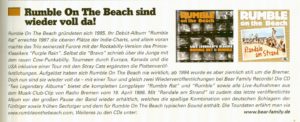 Rumble On The Beach gründeten sich 1985.
Ihr Debüt-Album "Rumble Rat" erreichte 1987 die oberen Plätze der Indie-Charts, und allem voran machte das Trio seinerzeit Furore mit der Rockabilly-Version des Prince-Klassikers "Purple Rain". Selbst die "Bravo" schrieb über die Jungs mit dem rauen Cow-Punkabilly. Tourneen durch Europa, Kanada und die USA inklusive einer Tour mit den Stray Cats ergänzten die Plattenveröf-fentlichungen. Aufgelöst haben sich Rumble On The Beach nie wirklich, ab 1994 wurde es aber ziemlich still um die Bremer.
Doch nun sind sie wieder voll da – mit einer Tour und gleich zwei Wiederveröffentlichungen bei Bear Family Records! Die CD "Two Legendary Albums" bietet die kompletten Longplayer "Rumble Rat" und "Rumble" sowie alle Live-Aufnahmen aus dem Musik-Club-Clip von Radio Bremen vom 19. April 1986. Mit "Randale am Strand" ist zudem das letzte veröffentlichte Album vor der großen Pause der Band wieder erhältlich, welches die spaßige Kombination von deutschen Schlagern der Fünfziger sowie frühen Sechziger und dem für Rumble On The Beach typischen Sound enthält. Die Tourdaten erfährt man via www.rumbleonthebeach.com, Weiteres zu den CDs unter: www.bear-family.de