Am 22.01.2016 auf rockradio.de in der Radiozeit von 14:00 Uhr – bis 15:00 Uhr die Sendung mit Rumble On The Beach

Kurt Mitzkatis interviewt Rumble On The Beach , die am 29.01.2016 ihre beiden Alben Rumble Rat und Rumble auf CD veröffentlichen!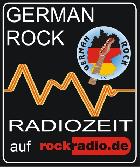 Heute wird es durchgehend rockig: Zwei auf einer,das hat bei Bear Family schon Tradition. Jetzt also werden am 29.01.2016 die beiden Frühwerke Rumble Rat und Rumble von Rumble On The Beach auf einer CD fein poliert wiederveröffentlicht! Und die Herren gehen auch auf Tour.
Das ist Anlass genug für Kurt sich mit Ohlly und Marc zu unterhalten. Natürlich gibt es auch reichlich Mucke zu den Gesprächen und 2 rockige Neuvorstellungen
– hört rein!