Neues Altes von Rumble on the Beach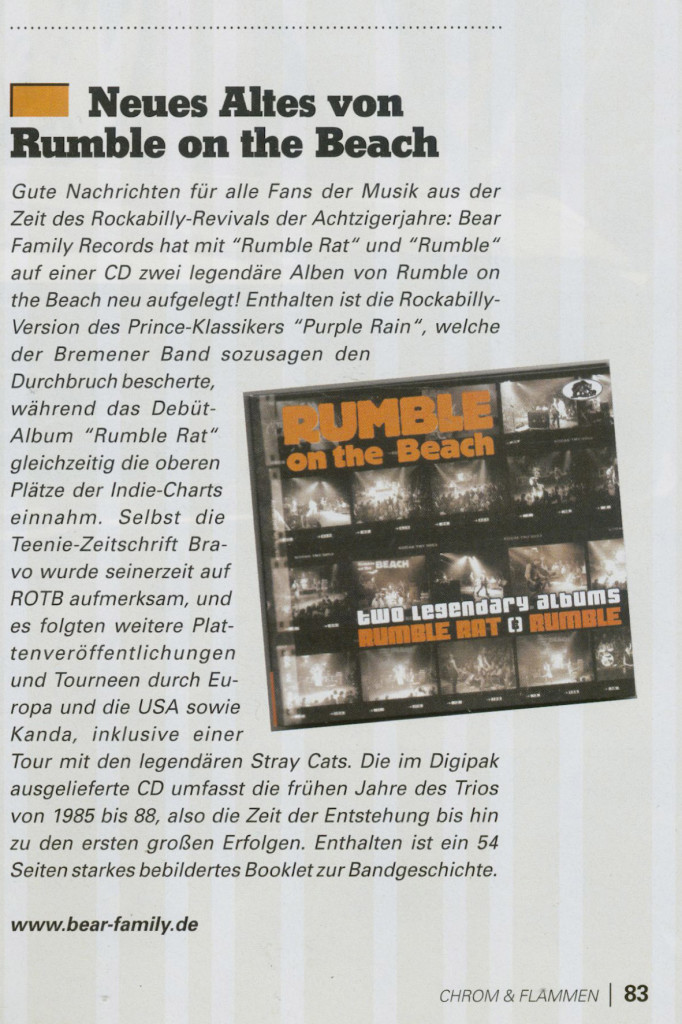 Gute Nachrichten für alle Fans der Musik aus der Zeit des Rockabilly-Revivals der Achtzigerjahre: Bear Family Records hat mit "Rumble Rat" und "Rumble" auf einer CD zwei legendäre Alben von Rumble on the Beach neu aufgelegt!
Enthalten ist die Rockabilly-Version des Prince-Klassikers "Purple Rain", welche der Bremer Band sozusagen den Durchbruch bescherte, während das Debüt-
Album "Rumble Rat" gleichzeitig die oberen Plätze der Indie-Charts einnahm. Selbst die Teenie-Zeitschrift Bravo wurde seinerzeit auf . ROTB aufmerksam und es folgten weitere Plattenveröffentlichungen und Tourneen durch Europa und die USA sowie Kanada, inklusive einer Tour mit den legendären Stray Cats.
Die im Digipak ausgelieferte CD umfasst die frühen Jahre des Trios von 1985 bis 88, also die Zeit der Entstehung bis hin zu den ersten großen Erfolgen. Enthalten ist ein 54 Seiten starkes bebildertes Booklet zur Bandgeschichte.
www.bear-family.de
CHROM&FLAIVIMEN I Februar 2016